Lately, I've been having avocado just about every day. In my salad, on my burger, in my burrito. The usual. So I got to thinking, what else could I make using avocado…and then I jumped off the deep end.
It turns out the possibilities are nearly endless with avocado. You can use it in literally every meal of the day!
You can bet that there's a recipe in here for just about everyone. Picky eaters, people like me who don't like to slave over a meal, chefs who love to use fancy ingredients. We've got you all covered.
Browse through, dig in, and share your favorite avo recipe in the comments!
Inspired to make something on this list? Tag us on Instagram when you post your pic! @PoweredbyMangos
Avocado BREAKFAST
1. Avocado Kale Tofu Scramble
by Namely Marly
Looking to start your day with a kick of protein? This is your dish. You also get the added benefits of greens and healthy fats all seasoned to perfection. Get the recipe
2. Tofu Scramble Toast with Avocado and Sauer Kraut
by Crazy Cucumber Blog
The same great flavors of the recipe above with the added tang (and probiotics!) of sauer kraut. Swapping kale for kraut transforms this into a completely different dish. Or you can get crazy and combine both recipes! Get the recipe
3. Roasted Garlic Avocado Toast
by Noming Thru Life
Hipster or not, avocado toast is something special. Instead of forking over ten bucks for a couple slices at a restaurant, make this masterpiece at home. Sourdough, avo, garlic… you just can't go wrong. Get the recipe
Avocado Smoothies
4. SUPER GREEN SMOOTHIE BOWL
by Minimalist Baker
Transform your smoothie bowl into a green powerhouse with avocado, spinach and kale, not to mention all the other killer ingredients like berries, flaxseed and granola! Get the recipe
5. AVOCADO BLUEBERRY MANGO SUPER SMOOTHIE Bowl
by Will Frolic For Food
Think creamy sorbet meets superfood goodness. This mood-boosting smoothie will get your day started off on the right foot. Get the recipe
6. ORANGE AVOCADO SMOOTHIE
by The Honour System
The avocado and the orange collide in this smoothie to create a creamsicle dream. Enjoy this as a zesty start to your morning or a refreshing dessert in the evening. Get the recipe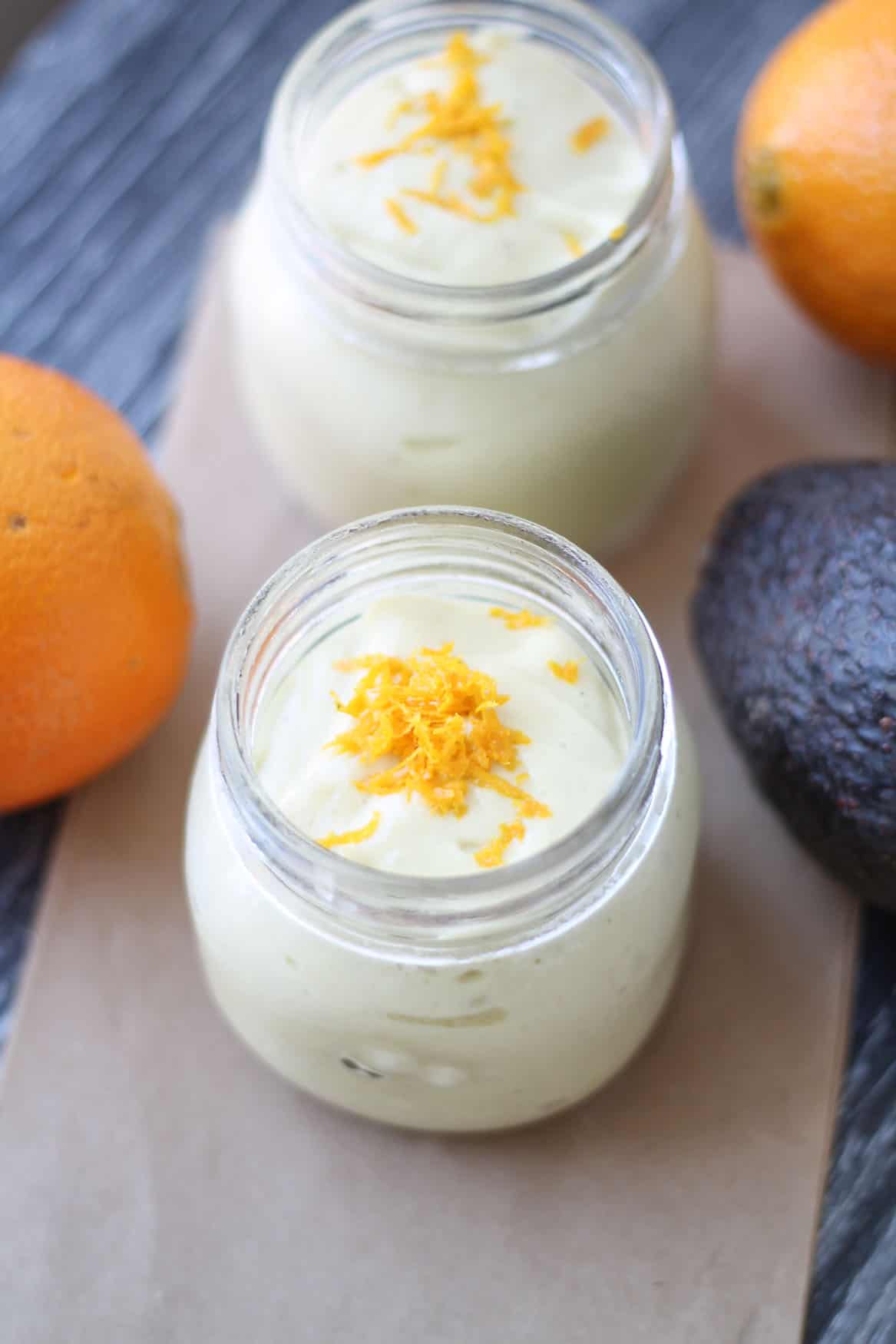 7. MANGO AVOCADO Almond SMOOTHIE
by The Veggie Indian
You know I couldn't have a list of smoothies without featuring mango! This super simple smoothie will take you away to the tropics. Get the recipe
8. RICH & CREAMY CHOCOLATE CHIA AVOCADO Smoothie
by Nutrition in the Kitch
This decadent smoothie could just as easily be listed under the dessert section and fit in just fine. This chocolate, creamy goodness will leave you satisfied with zero guilt. Get the recipe
---
---
Salads + Avocado
9. Cucumber, Tomato + Avocado Quinoa Salad
by Simply Quinoa
This hearty salad brings together satiating quinoa, creamy avocado, and refreshing cucumber and tomato all under a drizzle of lemon and olive oil. Get the recipe

10. Avocado Caprese Salad with Heirloom Tomatoes
by Cook Eat Paleo
The avocado takes the place of the mozzarella in this traditional favorite and it's definitely an upgrade! Get the recipe
11. Mango Avocado Salad
by StrawMary Smith
The thought of combining mangos with avocado in a brightly colored salad makes my tummy jump for joy. Two of my favorite foods together in one healthy dish is something I can definitely get on board with. Get the recipe
---
---
Avocado Soups
12. Chilled Artichoke Avocado Spring Pea Soup with Healthy Prebiotics
by Cotter Crunch
If you're looking for a meal to reboot your diet for a fresh start, this soup is for you. This soup is loaded with prebiotics and healthy veggies to nourish your body. Get the recipe
13. Chilled Avocado Cucumber Soup
by Catching Seeds
Cold soups just seem contradictory and wrong. But once you try this concoction, you'll understand why it's so, so right. Get the recipe
TACOS + Avocado
14. Panko Baked Avocado Tacos
by Minimalist Baker
These super simple tacos take avocado up a notch by covering them in seasoned bread crumbs and baking them to crispy perfection. Get the recipe
15. Toasted Avocado and Bean Pitas
by Neurotic Mummy
For snack, lunch or dinner, these pitas will fill you up for whatever the day brings. Get the recipe
COMFORT FOOD + Avocado
16. Stacked AVOCADO BUN Burger
by Los Vegangeles
So this one may not be practical and I'm pretty sure you'd have to eat it over the sink with plenty of napkins handy, but it definitely looks worth it. Get the recipe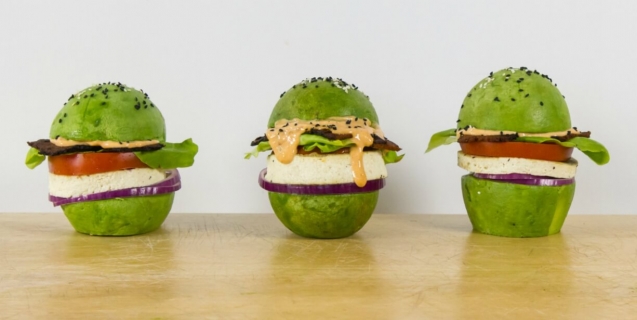 17. Easy Sweet Potato Veggie Burgers with Avocado
by Happy Healthy Life
Sweet potatoes and avocado are an amazing combination. And what's even more amazing is combining them in a burger. Get the recipe
18. BBQ Jackfruit Sandwiches with Avocado Slaw
by Minimalist Baker
Take your BBQ jackfruit sandwich to a new level with a crunchy and cool avocado slaw. Get the recipe
19. Avocado and Jalapeño Grilled Cheese Sandwich
by Namely Marly
This ain't your childhood grilled cheese. Spicy jalapeño-garlic vegan havarti cheese, smooth avocado, peppered faux turkey all nestled between two slices of toasty bread. Enough said. Get the recipe
20. Avocado Pizza
by The Whole Tara
You'll forget there's no cheese on this pizza the second you taste the cashew basil spread topped with tomatoes, avocado and basil. Get the recipe
21. Avocado Butter Mashed Potatoes
by Catching Seeds
This recipe combines creamy mashed potatoes with dollops of avocado butter that melts right into the potatoes for a rich, healthy, buttery, heavenly flavor. Get the recipe
NOODLES + Avocado
22. Roasted Beetroot Fettuccine with Avocado Pesto
by My Vibrant Kitchen
Not only does this make for a delicious flavor combination but the colors together are so beautiful and vibrant. Get the recipe
23. Avocado Pasta
by Damn Delicious
Twenty minutes for a creamy, flavorful pasta? Sign me up! Get the recipe
24. Kale Noodle Bowl with Avocado-Miso Dressing
by A House in the Hills
Get your greens in with this creamy, Asian-inspired dish that's perfect for those days when you just don't have a lot of time to spend in the kitchen. Get the recipe
25. Creamy Avocado Mac & Cheese
by Zena 'N Zaatar
This macaroni and cheese looks like something out of a children's book (Green Eggs & Ham, anyone?) but it's the perfect way to spruce up a traditional dish. Get the recipe
SUSHI/ROLLS + Avocado
26. Cucumber Avocado Sushi Rolls and Hand Rolls
by The Viet Vegan
No need to overload your vegan sushi with a bunch of different veggies if that's not what you're feeling. This recipe is tasty with just rice, cucumber and avocado. Get the recipe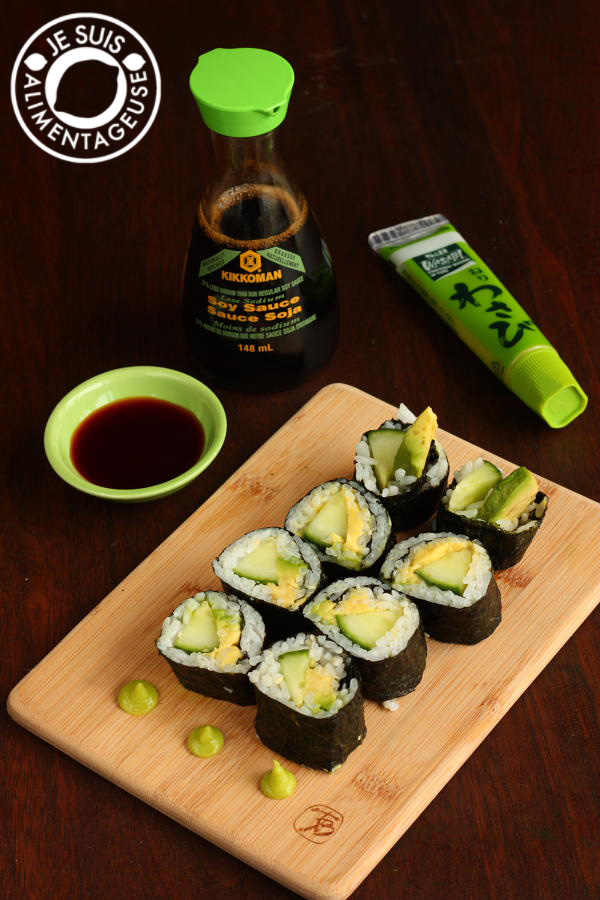 27. Pear Avocado Sushi Salad with Peanut Sauce
by Veggie Primer
Sometimes rolling your sushi just takes more effort than you're willing to put in. Save time and energy by taking your sushi out of the roll. Get the recipe
28. Vegan Sushi and homemade pickled ginger
by Lazy Cat Kitchen
If you're craving a more diverse sushi roll, load it up with bunches of veggies and zingy pickled ginger. Get the recipe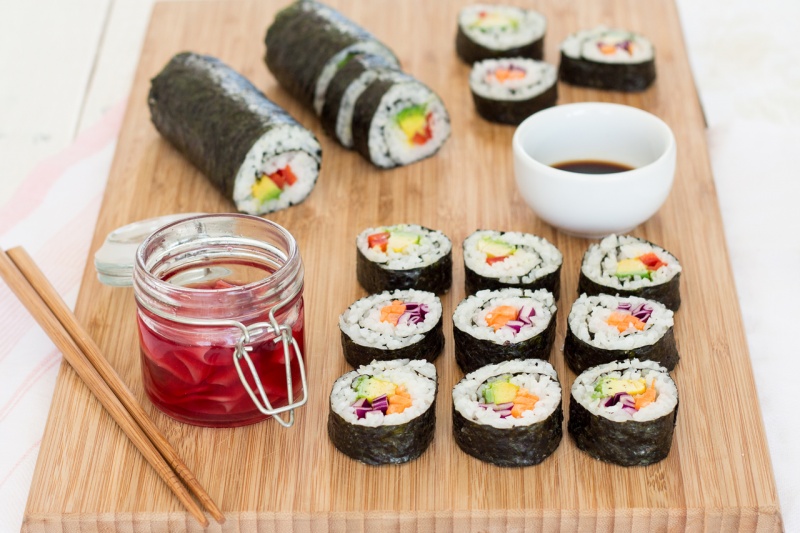 Avocado SIDES
29. Guacamole
by Powered by Mangos
Where would a list of avocado recipes be without guacamole. This one comes from my very own kitchen. Get the recipe
30. Mediterranean Grilled Avocado Stuffed with Chickpeas and Tahini
by Food Faith Fitness
Grill avocados? What! Stuffed with veggies and chickpeas? Double what! This is a whole new avocado world. Get the recipe
31. Crunchy Quinoa Crusted Avocado Fries and Dip
by The Whole Tara
These are probably some of the healthiest fries in town. Avocado on the inside and quinoa bread crumbs on the outside, all baked not fried. Get the recipe–this site is currently down. Check back later!
Avocado Spreads, Sauces and Dressings
32. Avocado Lime Hummus
by Recipe Runner
Hummus is so diverse. You can use it as a dip or a spread, or you can dilute it with apple cider vinegar (like my hubby does) and use it as a dressing! Get the recipe
33. Raw Avocado Pesto
by Beauty Food Blog
You'll be slathering this quick and easy pesto on everything. It's creamy, raw and oil-free! Get the recipe
34. Avocado Butter
by Catching Seeds
This is the same avocado butter used in the mashed potatoes above. But instead of being in potatoes, you can put it on everything else. Get the recipe
35. Creamy Cilantro Avocado Dressing
by Thyme & Love
Finding a good and healthy salad dressing is not easy. This one's packed with flavor and protein (thanks to the tofu!). Get the recipe
36. Spicy Habanero Avocado Sauce
by Smart School House
For all you hot sauce lovers out there, here's a creamy, flavorful sauce for you to put on everything. I, on the other hand, will be staying far away from this recipe (I'm a spicy weakling). Get the recipe
DESSERTS + Avocado
37. Avocado Chocolate Sauce
by The Whole Serving
Who doesn't want to spread chocolate on everything? Now you can with this super simple, super creamy, super decadent chocolate sauce. Get the recipe
38. Chocolate Avocado Frosting
by The Smart Cookie
Yes! A guiltless chocolate frosting recipe you can use on your baked goods or just lick right off the spoon. We won't judge. Get the recipe
39. Healthy Chocolate Tart
by Tastes Lovely
This tasty tart is gorgeous enough for a dinner party dessert and healthy enough for a Tuesday night indulgence. Get the recipe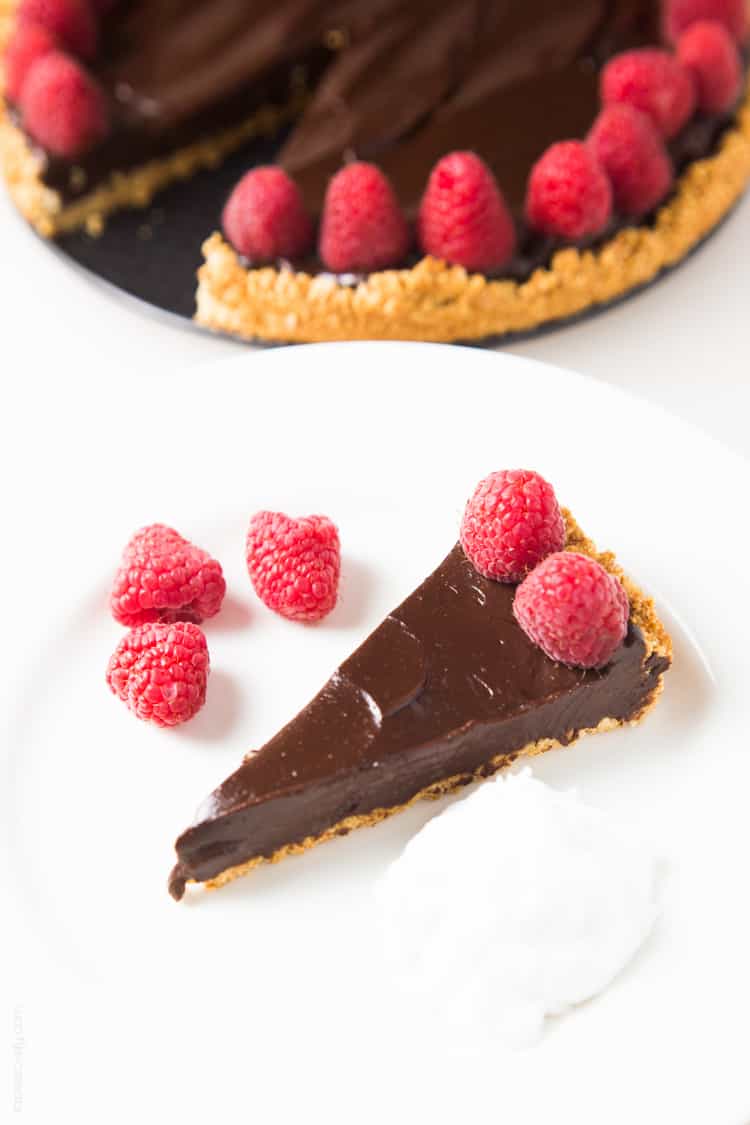 40. Avocado Lime Cheesecake
by Sweetly Raw
Cheesecake was one of my favorite desserts before going vegan. I never would have thought to add avocado and lime. This might just have to be my birthday cake this year. Get the recipe
41. Chocolate Beet Cupcakes with Chocolate Avocado Frosting
by Making Thyme for Health
When you think beets and avocado, cupcakes are not first to come to mind. That might all change once you've had a taste of these bad boys. Get the recipe
42. Healthy Avocado Chocolate Cookies
by Sprouted Fig
Soft, airy, cloud-like double chocolate chip cookies. My mouth is watering. Get the recipe
43. Raw Avocado Protein Bar
by Sweet As Honey
Pack some of these in your bag to keep you going through the day or for an extra punch of protein after a workout. Get the recipe
44. No-Bake Grasshopper Bars
by Whole New Mom
Chocolate and mint. Need I say more? Pop these in the freezer for an even more delicious experience. Get the recipe
45. 5-Ingredient Avocado Fudge Bites
by Chocolate Covered Katie
All you need for this recipe is a handful of ingredients that you probably already have in your kitchen. It's almost like you have to make these now. Get the recipe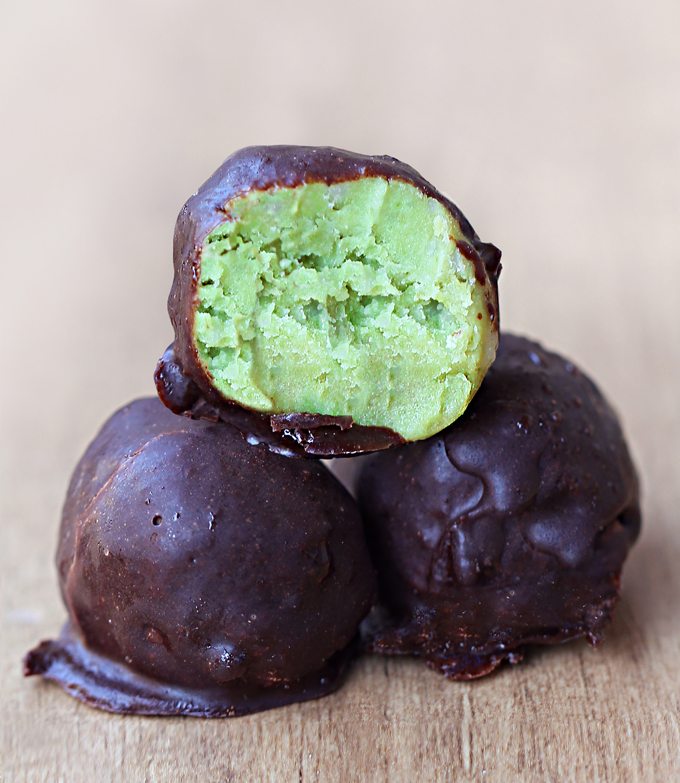 46. Chocolate Avocado Truffles
by Crazy for Crust
These rich bites of heaven will have you craving truffles year round…and you'll be happy to indulge because the recipe is so clean and healthy. Get the recipe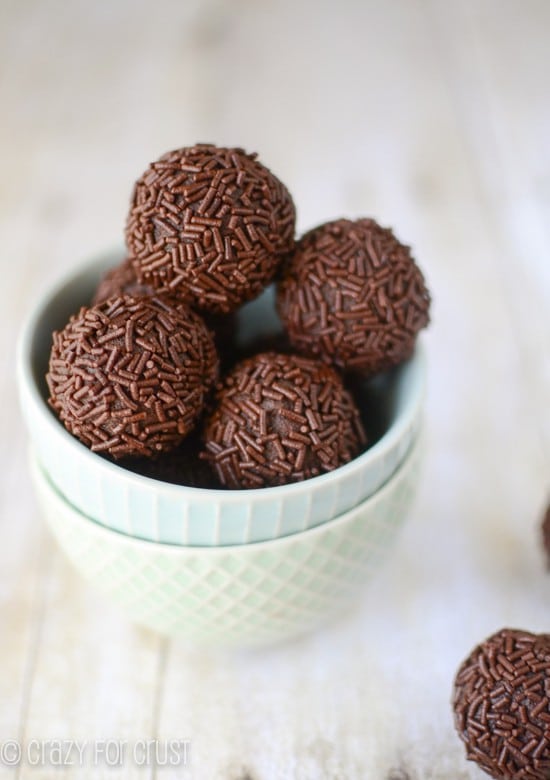 47. Chocolate Hazelnut Avocado Mousse
by Rawberry Fields
Any Nutella fans out there? This mousse is right up your alley and so much healthier. Get the recipe
48. Chocolate Peanut Butter Avocado Pudding
by Minimalist Baker
This recipe is like a healthy Reese's Peanut Butter Cup in pudding form. Naturally sweetened and full of healthy fats, this dessert is a must. Get the recipe
49. Chocolate Orange Pudding
by As Easy As Apple Pie
Can it be? A rich, silky-smooth, decadent, creamy and healthy dessert ready in 2 minutes! Now that's my kind of dessert! Get the recipe
50. Key Lime Ice Cream
by The Roasted Root
Avocados put the "cream" in ice cream. And the key lime flavor makes for a perfectly refreshing dessert. Get the recipe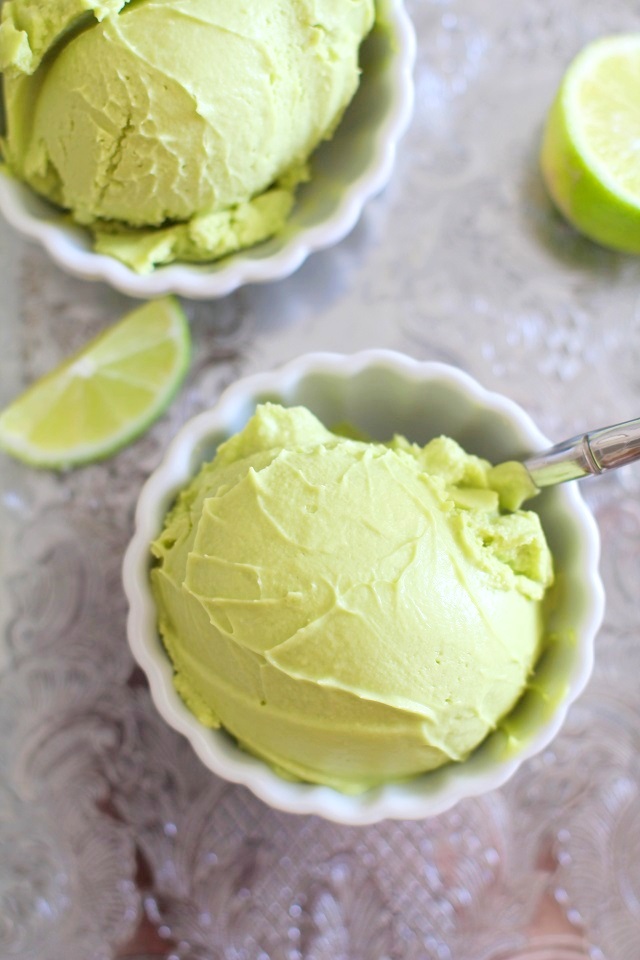 51. 5-Minute Raspberry Ice Cream
by Nutritionist Meets Chef
With 5 ingredients and 5 minutes, you'll have yourself a dessert that's tart like a sorbet yet creamy like ice cream. The best of both worlds. Get the recipe
52. MINT CHOCOLATE CHIP ICE CREAM
by PeTA
Here's another one for you lovers of all things mint chocolate. Get the recipe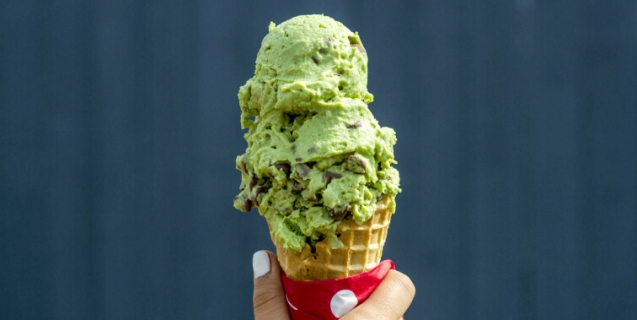 53. Avocado Lime Popsicles
by Healthier Steps
This recipes combines avocado, coconut, banana, and lime for a tropical blend and a delicious, cooling summer treat. Get the recipe